Welcome to the Animal House

If you're looking for a secure environment and personal service, you've come to the right place 

for your pets. At Karen's Animal House, we'll give your extended family the special attention 

you want for them.

Karen's Animal House has been located in Las Cruces since 2013. Let us put our animal 

experience to work for you. Our rates are competitive, with no hidden fees. Our employees 

are knowledgeable and friendly and will take care of your pets as they would their own.

1646 Mahaney Dr, Las Cruces, NM

575-525-8065

Monday - Saturday 7:00 am - 6:00 pm

Sunday 1:00 pm - 5:00 pm

Please Note: Our business hours for dropping off and picking up are as posted above. 

If you have any questions, please ask for Karen.

We are closed on:

New Year's Day

Memorial Day

July 4th

Labor Day

Thanksgiving

Christmas

We close at 2 pm on Christmas Eve and New Year's Eve.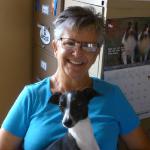 Due to the increase of Canine Pneumonia around the country, we are requiring all boarding  and daycare dogs to have updated vaccines for Bordetella and Canine Influenza at least two weeks before arrival for daycare and boarding. If you have any questions in this matter, please contact your veterinarian.

Come by for a facility tour anytime during business hours.